Yesterday I finalized the ebook version of the popular vSphere Design Pocketbook and it's available now. To receive one, just follow this link and register.
A little history about the book
In case you missed it, the vSphere Design Pocketbook is a platform for all the virtualization community members to broadcast their design considerations. In the vSphere clustering deepdive series Duncan and I emphasized certain design consideration by calling them out in "Basic design principles" text boxes. Basic design principles provide quick and simple as well as deep and quintessential information to make architectural design decisions. We knew other community members had loads of advice to share and from that idea the vSphere Design Pocketbook was born.
Next thing I did was start a contest and from that point on everything went crazy, more than 500 entries were received within a couple of days. WOW! The team, Duncan Epping, Cormac Hogan, Jason Nash, Vaughn Stewart and myself reviewed the entries and we planned to select the best 100 submissions. But there were so many great entries, we ended up selecting 184 "tweet-sized" design considerations. Those 184 recommendations were provided by a total of 57 community members. Besides the team I would like to highlight three persons who contributed to the book tremendously; Josh Odgers, Sunny Dua and Chris Wahl. They provided so many good recommendations I had trouble finding the correct placement for their recommendations in the books without having them featured on opposite pages. It was a great experience and I absolutely enjoyed all the great feedback I got, maybe I will do it for next VMworld again. Who knows….

VMworld
Talking about VMworld, It was a great hit at VMworld 2013 and we gave away 1500 copies of the book. I think I even signed almost all of them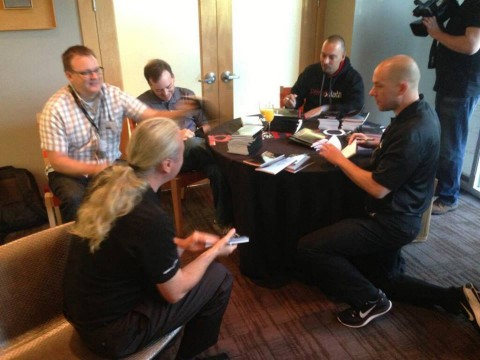 PernixData threw a breakfast party for to celebrate the release and even VMworld TV showed up to capture the buzz around the book. View the video to get an impression of the cool roof-top breakfast party.
Do you have some hardcopies left?
Unfortunately we cannot individually distribute hardcopies around the world, however we saved some copies and plan to have those available at the PernixData booth at VMworld Barcelona.
Thanks everybody for making this a huge success!