New book project: vSphere Design Pocketbook v2 – the blog edition
Last year's vSphere Design Pocketbook – "Tweet sized Design Consideration for Your Software-Defined Datacenter" was a big hit. Over 3000 copies were given away since last VMworld and I don't even know how many copies are downloaded.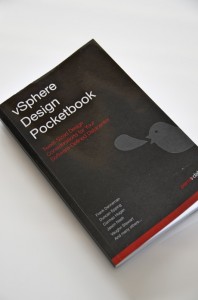 vSphere Design Pocketbook platform
In case you missed it, the vSphere Design Pocketbook is a platform for all the virtualization community members to broadcast their knowledge. In the vSphere clustering deepdive series Duncan and I emphasised certain design consideration by calling them out in "Basic design principles" text boxes. Basic design principles provide quick and simple as well as deep and quintessential information to make architectural design decisions. We knew other community members had loads of advice to share and from that idea the vSphere Design Pocketbook was born. And now it is time for a successor!
The design considerations featured in the first book are in tweet-sized format, limited to 200 characters. This edition will expand beyond this limit and allows conveying your thoughts up to the length of a blog article. You can select either an existing content such as a published article or create a new one.
Is there a maximum length? Not exactly, use the words necessary to describe your design consideration efficiently. If necessary we will ask you to condense your material.
Can I use diagrams? Absolutely! Make sure you provide the diagrams and screenshots that can be printed. At least 220DPI, preferably 300DPI. Looking for guidelines on making great diagrams? Please read this article
Will I be credited? We will use the same format as the first book. Your name, twitter handle and, if available, your blog url will be listed. In line with most blog sites, you are requested to provide a short bio of 3 sentences that will be printed along side the article.
Do I need to be a blogger? You are not required to have a blog, nor be a vExpert or VCDX. There are no requirements for submitting your design decision articles.
We are looking for content in the following categories:
Host design
Cluster design
vCenter design
Networking and Security design
Storage design
Generic design considerations – "Words of Wisdom".
To avoid saturation we do not allow more than a total of your top three articles. For example, you can provide us with three design consideration articles for the Host category but you could also choose to provide one article for three different categories. Be aware that we rather see one excellent design consideration article than three mediocre ones.
Project schedule
Announcement and Call for Entries (Today)
Deadline for Call for Entries (April, 25th)
Deadline selection design considerations by judges
Book design and print process
Book Availability (VMworld 2014)
Once the book is complete we shall publicise the list of people mentioned in the book, we will not share information during the production process of the book.
This book is free!
PernixData generously offered to print the book. If your design consideration is included in the book, you will receive a copy of the book. At the booth at VMworld PernixData will have a copy available for people who submitted a winning design consideration article. A limited number of books will be available for the community. More details will follow. After VMworld an E-book version of the book will be made publicly available.
How to enter?
An online form will be made available soon. In the mean time you can select your top article or write a new one. Stay tuned for the announcement!