Just before VMworld Duncan came up with the idea of altering the RUN DMC logo and changing it into a RUN DRS logo. Within hours I got the design ready for printing and we ordered a couple of shirts for some people at VMware.
Apparently we grossly underestimated the popularity of the idea because we couldn't move more than a couple of feet at VMworld before we were asked where to get that shirt. We received emails, tweets and even phone calls of people desperate of getting their hands on the shirt.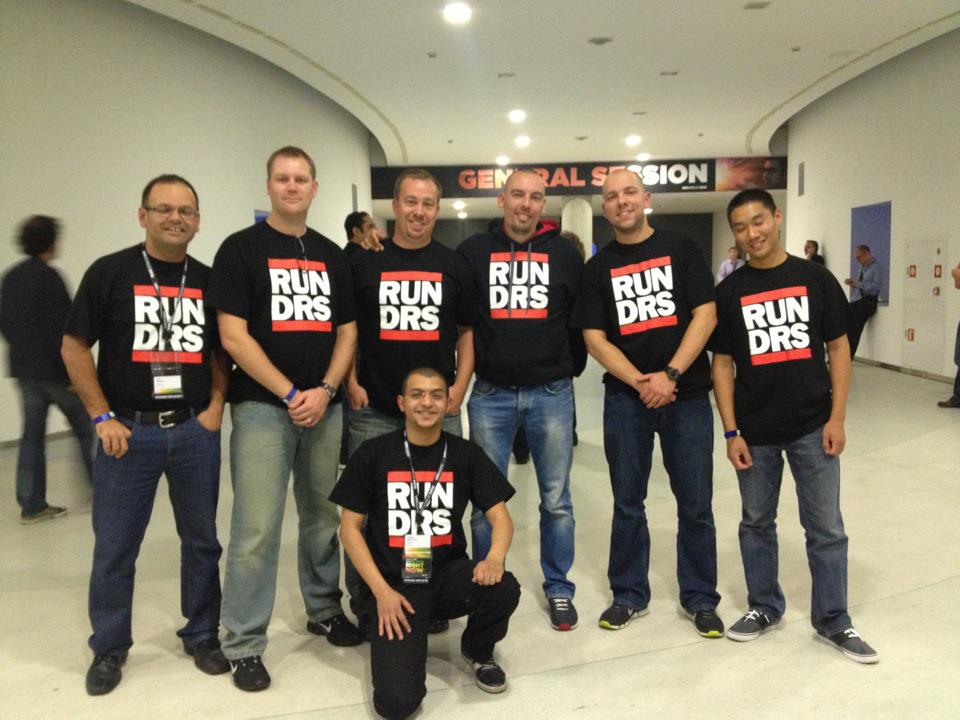 Unfortunately due to legal reasons we cannot make these T-shirts available as we are using the trademarked logo of RUN DMC and listing a trademarked VMware vSphere feature. However I can tell you how I exactly I created the design.
Before continuing I would like to stress that this idea is free for use, however you should not use this design for commercial purpose.


Anatomy of RUN DRS logo
The key element is the font type. Franklin Gothic Heavy is the font resembling the font used in the original RUN DMC logo. I created a image of 1500 pixels by 1500 pixels and placed the RUN DRS text in the middle. With this image size I used a font size of 150pt. To get the letters close to each other, I used a tracking of minus 55 pt.
The red bars above and beneath the text have a hex code of f70000 and have a height of approximately 66% of the font height. In my design the bars have a height of 158px and span the entire width of the image. The text is aligned with the bars. After completing the logo, I cropped the canvas and saved it at 300 DPI. The larger the image and the DPI the better result you will get when printed on fabric or ceramics.

But wait there is more…
You don't have to stick with DRS, you can also use this idea to make your own Run *** shirt, I made two other examples to give you an idea.


To make it easy for you I've uploaded the PSD file. Download it here, the PNG file is available here.
If you decide to make a shirt, please tweet it to @duncanyb, @RUN_DRS and @frankdenneman.
Please remember, respect the artists and do not recreate this design for commercial use.
Get notification of these blogs postings and more DRS and Storage DRS information by following me on Twitter: @frankdenneman