As a seasoned VMworld attendee I was again disappointed with the registration process. During the registration process VMworld offers a subset of their vast collection of hotels, limiting your choice immensely. During my registration process VMworld thought it was a good idea to provide a list of decent hotels in the Fisherman's wharf region. Perfect choice when you enjoying San Francisco on your holiday, a terrible location when your actually have to work in the SoMa area of San Francisco. Time to find an alternative; maybe Airbnb will do the trick.
Within seconds I found a nice place relative nearby Moscone center, allowing me to start the day meeting community members at Mels or have customer breakfasts in one of the other restaurants nearby. All without having to grab an uber or a taxi. To my surprise the space for rent was 50% cheaper than the cheapest hotel offered by VMworld.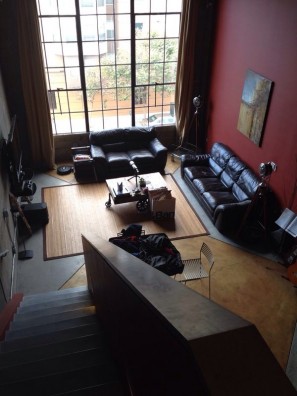 The loft was great providing me a nice place during the conference; due to the age of the building the Earthquake was quite an unfiltered experience ☺.The big comfy couch allowed me to unwind a bit after a hectic day. The loft was truly a home away from home except for a couple of things.
Be mindful about the little amenities a hotel offers which an Airbnb place does not. Things us clean sheets, clean towels and coffee! I like (need) to start my day with coffee and when you are up and awake at 4 o'clock in the morning, being able to brew a fresh pot of coffee is something you might take for granted while staying in a hotel. While being on vacation you have the time to do laundry and find coffee supplies, but during the frantic week of VMworld you usually don't have this luxury.
Isolation is something one should be aware of as well. With VMworld in town, most hotel lobbies are hotspots for meeting many people you won't see at the show. You will avoid this when having a private space. This can be something one might appreciate; in retrospect I think I missed meeting a lot of people this way.
Would I do it again? I will definitely use Airbnb more for private travel plans, but due to the isolation factor and time constraints I will book a hotel next year. Actually I already have, circumventing the broken hotel registration part of VMworld.